Joe Girardi felt it, the Yankee offense felt it. Michael Pineda didn't for 6 innings, but much like this latest stretch, he fell victim of the Yankees desperation.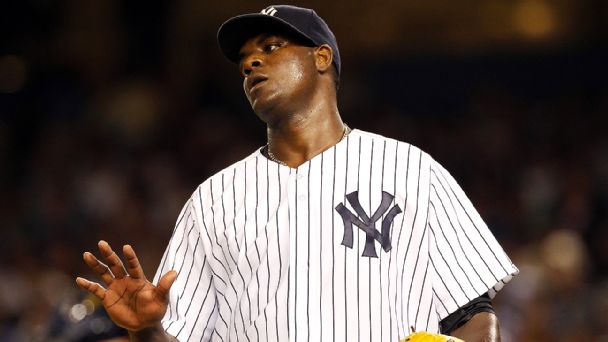 Girardi ran Pineda out for the 7th inning in a game he HAD to win. He couldn't use his late inning weapons of Dellin Betances and David Robertson. Who by the way, also have faltered in the crucial of times in the last week. Pineda reached his pitch limit through 6 innings but Girardi so desperate for a win, ran him out there for the 7th. I immediately thought back to Betances in Baltimore last week. Betances was lights out through 2 innings of relief but Giradi pushed the envelope and tried to get a 3rd straight flawless inning. He was playing with fire...he got burned. Betances served up a game tying home run and the Yanks lost a game they desperately needed. Tonight, Pineda walked the only man he faced in the 7th. That run came around to score the tying run. The walk also was the beginning of a four run 7th inning for the Astros and gave them a 5-2 lead.
The Yankees never recovered. They never recovered because they can't hit with runners in scoring position. That's it. There's nothing else to look at, second guess, or judge. The Yankee offense is TERRIBLE. A day after going 1 for 9 with runners in scoring position, they go 1 for 8 and left 10 men on base tonight. The fact that this team can't hit with men on base is baffling. It's frustrating, it BS, it's pathetic. At this point..it doesn't matter anymore. The Yankees are trying to get themselves to a 1-game playoff that they will go in the underdog, no matter who's on the other side. That's because, this team can't hit. If they can't beat the Astros, what makes you think they beat a playoff ready team in a winner take all game? What happens in that game, when the game is on the line and there's runners on base? If the Yankees are tensing up now, what happens when the SEASON is on the line? Nothing...that's the answer. Count down to Sept. 7th, because Derek Jeter Day at Yankee Stadium will be the only special moment for the rest of the season. Such a shame....the Captain deserves better than that.